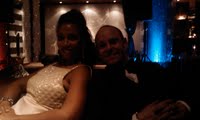 The futuristic year 2010 came in with a bang at the Tschuggen Grand in Arosa. Hedreich and the Gary Scott Band kept the party going till the fireworks started and the gayly turned out crowd showed their appreciation by keeping the dance floor full and breaking only to grab morsels of the delectable edibles.
Now, safely nestled in the wintery Alpine countryside with a
couple of weeks off from the stage, our artist is busily working on the last phase of the CD production. Graphics, booklet, CD, PR and more. Stop back by to find out if there's a release event near you.